Payment Protection
Members Choice Borrowers Security
The information below is intended to provide a general description of the optional protection program for consumer loans.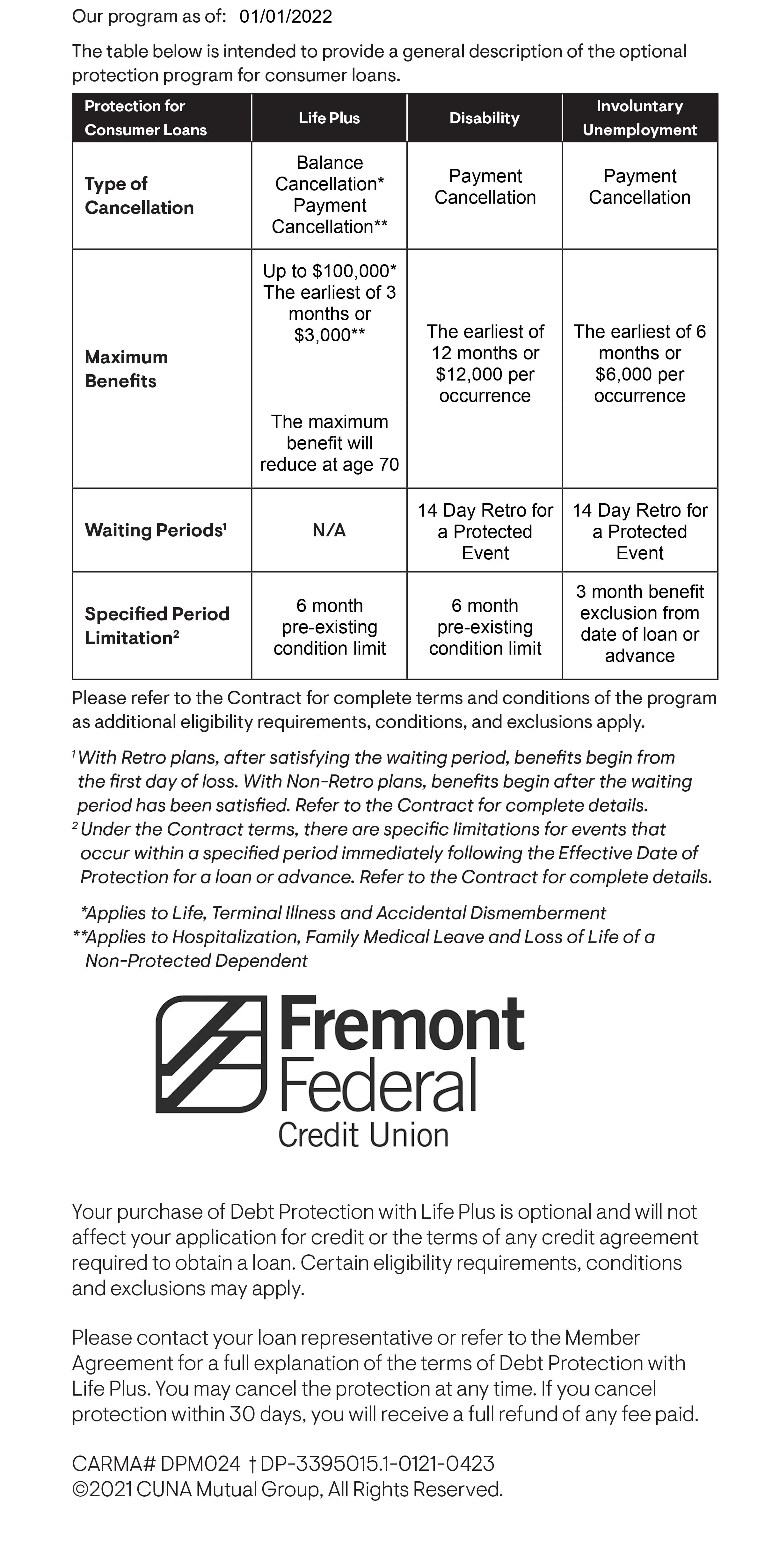 *Pre-existing conditions and certain benefit exclusions may apply. Must complete "Statement of Insurability" when adding after 30 days of the date of the loan for both Credit Life and Credit Disability. Refunds are not applicable because premiums are paid monthly. Cancellations must be in writing and become effective the first day of the following month.
---
GAP Protection
GAP - GUARANTEED AUTO PROTECTION - helps cover the "gap" between the actual cash value of a vehicle and the outstanding loan balance of that vehicle.
GAP provides security and protection.
GAP provides security - in the event, your auto is stolen or damaged beyond repair, this insurance may help pay the difference between your insurance settlement and the loan balance with us.
GAP provides protection - protect your credit rating in the event of the loss of your vehicle.
Why do I need GAP when I have full coverage insurance on my vehicle? Quite often the actual cash value of a vehicle involved in a total loss is less than the outstanding loan or lease balance at the time of loss. GAP coverage helps pay the lender, or lessor, the difference between the actual loan balance and the payment from the borrower's primary insurance carrier. Most people, because they've never experienced it, don't understand their insurance carrier may settle for an amount less than the loan balance when a car has been totaled in an accident or stolen. The remaining loan balance after your insurance payment is still a debt owed. In these situations, you very well could end up with two car payments, assuming you've purchased a replacement car, without GAP coverage.
Information about our GAP coverage:
Premium can be financed in the loan
Available for both new and used autos
Available on refinanced loans
Protection for up to 84-month terms
No deductibles
Deductible reimbursement on the primary policy up to $500
Stop by your favorite Fremont Federal Credit Union office for more information or call 419-334-4434 in Fremont, 419-849-2570 in Woodville, or 419-547-2348 in Clyde or 419-573-6310 in Port Clinton.
---
Route 66 Warranty
Are you prepared for a mechanical breakdown with your vehicle? Do you have the necessary cash to pay for the rising cost of repairs? If you answered no to either of these questions, then a Route 66 Extended Warranty is an intelligent investment to ensure that you are covered if a mechanical breakdown does occur. A Route 66 Extended Warranty protects your investment from expensive mechanical breakdowns and also comes with:
$0 Deductible
24 Hr. Emergency Roadside Assistance
Rental Car Benefits on Every Plan
Your Route 66 Extended Warranty, offered by a company with over 20 years' experience, also includes a 30-day money back guarantee, nationwide coverage, and is fully transferable. Give yourself peace of mind while getting full protection. This extended warranty coverage is the most comprehensive coverage available for all makes and models of automobiles. You don't need to have an auto loan with Fremont Federal Credit Union to purchase a Route 66 Extended Warranty, either. Stop into any of our offices today to learn more about this convenient coverage, or call 419-334-4434 in Fremont, 419-849-2570 in Woodville or 419-547-2348 in Clyde or 419-573-6310 in Port Clinton.
Insurance products sold through or in the credit union are not insured by the National Credit Union Administration and are not issued, guaranteed, or underwritten by the credit union or the National Credit Union Administration or any other federal government agency.
That there is no requirement or obligation to purchase insurance from the credit union or any subsidiary, affiliate, or particular unaffiliated third party as a condition to obtaining a loan, and a decision as to insurance agents will not affect the credit terms in any way. The credit union may not condition an extension of credit on an agreement not to obtain, or a prohibition on the applicant from obtaining an insurance product or annuity from an unaffiliated entity.
Go to main navigation