Literacy Programs
Credit union philosophy is centered around people helping people and education. This is why we are very proud to sponsor grade school and high school literacy programs.
Dollar Dog's Clubhouse
The Dollar Dog Kids Club is a great way to help kids learn about the importance of saving, earning and even investing money. Kids will learn the basics of healthy saving and spending habits, and have some fun in the process.
When they join the Dollar Dog Kids Club at Fremont Federal Credit Union, children receive an Official Club Membership Card and all kinds of free goodies. There will be special events and contests at the credit union, and Dollar Dog's Clubhouse is always open for learning, fun, and games via our website. A child must join the credit union to become a member of the Dollar Dog Kids Club. For more information contact the credit union.
---
Cha-Ching Teen Club
We carry our financial literacy mission one step further with a product designed especially for teens called Cha-Ching Teen Club. We offer our teens a checking account, Visa Check Card, E-Statement, Online Banking, Bill Pay and Visa Credit Card as long as a parent or guardian is a joint owner on their account. What a smart way to teach your teens money management!
We also spend countless hours each year in the classroom with area students talking to the younger kids about the difference between wants and needs and the importance of contributing to a savings account. In the high schools, we educate students on credit scores and the importance of establishing and maintaining a positive credit score. We also talk to them about credit cards, loans, and mortgages. In general, we try to help establish good savings habits and help lay the ground work for our young people to make sound financial decisions in their future.
---
Saving with Mandy and Randy

Our grade school program is called Saving with Mandy and Randy and is currently used in all 16 grade schools in Sandusky County. The program is geared towards second graders, introducing them to basic saving, counting coins and the difference between needs and wants. A complimentary guest speaker and tour of our Main Office vault from the 1800's, is included.
---
Making the Right Money Moves
Making the Right Money Moves is our high school program targeted to high school juniors and seniors. Typically, area juniors and seniors use this tool in class. The program covers the basics of handling a checking account, the effects of finance charges on loans and compounding interest on deposits. The importance of managing credit is stressed with sample credit reports reviewed. We feel the most important aspect of this program is for the student to walk away knowing they own their credit history. We make them aware that improper payment of cell phone bills, loan payments, etc. can affect their credit rating. We make them aware of what they will encounter once they head off to college or into the work force and the ease of obtaining credit cards. A complimentary guest speaker and tour of our Main Office vault is included with this program.
---
Finances101
We also participate in the Northwest Ohio Credit Unions Finances101 where students travel around a life-sized game board. Some of life's choices lie in the draw of the cards, roll of the dice or the spin of a wheel. During the game, students may payout money for a fender bender, have Uncle Veto visit and eat them out of house and home or win some money through the lottery.
There is uncertainty around every corner, along with opportunities to make sound financial decisions too!
High School Students learn about:
Earning a wages and paying bills
What it costs to run a household
How earnings affect buying decisions
Adult responsibilities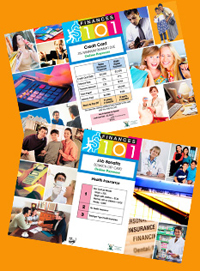 In these tough economic times, Credit Union's from all over Northwest Ohio are working together to teach students about making good money decisions -- even before they're faced with them. Banks, budgets, and babies -- how much do they mean for your bottom line? That's what high-school students have to figure out as they crunch numbers and balance budgets in their make-believe lives. Students are given a checkbook with their career, salary and debt printed on the inside. And from there, they just try to keep money in the bank as they get hit with typical monthly expenses. It's not just about learning how to write a check. It's also about learning how to budget those unexpected expenses.
Finances 101 is now offered in an online version as well. This free financial education game teaches students and adults about the money demands of the real world. The online game allows players to manage a virtual checkbook and poses "cause and effect" scenarios to demonstrate the impact choices have on finances.
Thank you to the Ohio Credit Union Foundation for grant money to make both the live and the online version of Finances 101 possible.
Go to main navigation