It's that time of year, again!!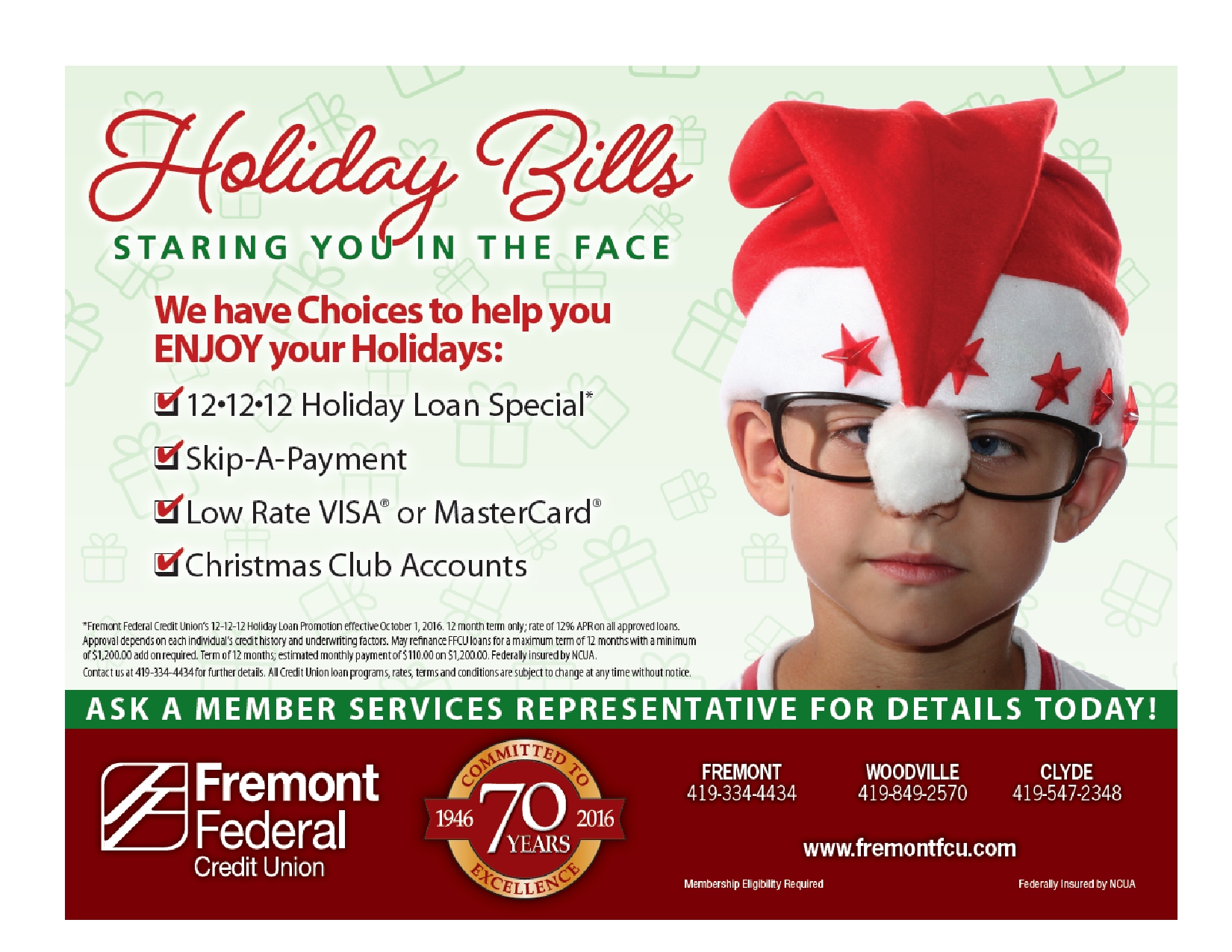 ___________________________________________________________
FFCU 2017 Scholarships
Fremont Federal Credit Union will once again award $1,000 Scholarships to several high school graduating seniors! Applicants and/or parents/legal guardians must be a member of the Fremont Federal Credit Union, in good standing, since January 1, 2016.
Applications will be available at any Fremont Federal Credit Union office, at area high schools and on our website beginning January 1, 2017. Scholarships will be awarded at our Annual Meeting on May 11, 2017. Contact Angie Chlosta at 419-333-2931 for additional information or questions.
Download a 2017 scholarship application here!
Students will be judged on the following:
Grade Point Average (2.50 GPA is the minimum standard)
School Involvement
Community Involvement
Essay Question
APPLICATION REQUIREMENTS
1. Applications must be typed.
2. Two letters of recommendation are required; one must come from the school and one from an event/organization/employer (not school related) that the student is involved in.
3. Attach your high school transcript.
4. An interview may be conducted with the Scholarship Committee.
5. Submit the completed applications (Fremont Federal Credit Union and Northwest Chapter of Credit Unions) and all other required letters to:
Scholarship Committee
Fremont Federal Credit Union
315 Croghan Street
Fremont, Oh 43420
The decision of the Scholarship Committee will be final. Students of Employees and Board Members are excluded.
APPLICATION DEADLINE: Saturday, April 1, 2017
---
Looking for a New Auto?

Now is the perfect time to warm up to our great auto loan rates.
Let us show you how we can help.

2017 Holiday Closings

Monday, January 16 - Martin Luther King, Jr. - Closed

Monday, February 20 - Presidents Day - Closed

Monday, May 29 - Memorial Day - Closed

Tuesday, July 4 - Independence Day - Closed

Monday, September 4 - Labor Day - Closed

Monday, October 9 - Columbus Day - Closed

Friday, November 10 - Veterans Day - Closed

Thursday, November 23 - Thanksgiving Day - Closed

Monday, December 25 - Christmas Day - Closed

User ID =

Password =