New Fremont Federal Credit Union Visa Platinum Credit Cards are here!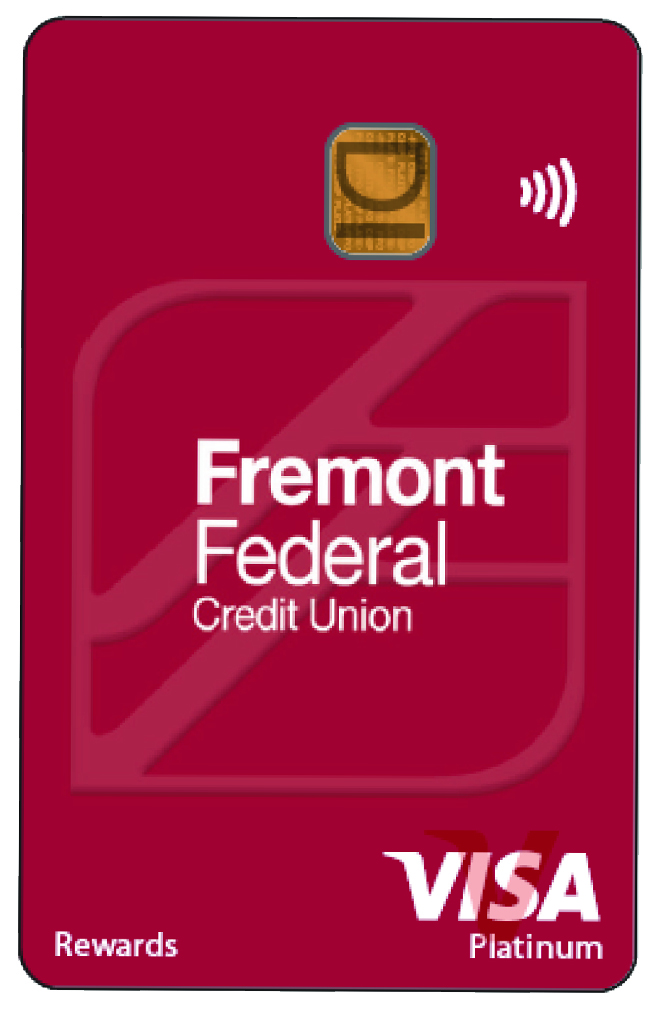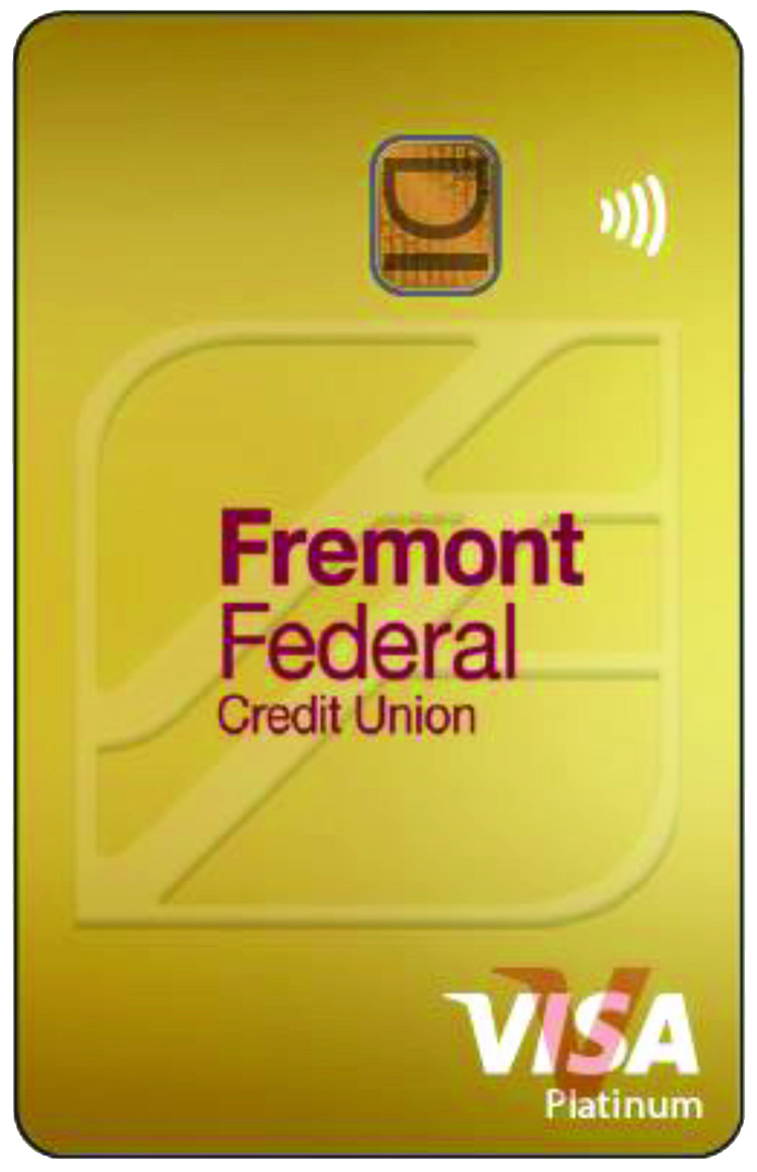 Fremont Federal Credit Union has partnered with a new credit card processor. With the new partnership, we will be able to provide upgraded functionality and a more secure credit card to cardholders. Your new Fremont Federal Credit Union Visa® Rewards Credit Card was mailed in late March-early April 2022. Your new Fremont Federal Credit Union Visa® Rewards credit card replaces your current MasterCard® or Visa®.
The new FFCU Visa Platinum card designs are vertical & contactless to facilitate fast, socially distant purchases – just tap and go! The new design also places the card number out of sight on the back as a security enhancement to prevent others from capturing your card information during transactions.
Here is the important credit card changes you NEED to know:
In April, you will receive a newly designed, EMV Chip-enabled VISA Platinum Card.
When the card is sent in the mail, what does the envelope look like?
For security reasons, please be aware that your card will come in a plain white envelope.
The new card will be issued with a new number.
If you have any pre-authorized or recurring charges on your card, you will need to update those merchants with your new card number.
Activate your new card on Sunday, April 10, 2022. PLEASE DO NOT destroy your current card until the new card is activated.

To activate your new card, call the phone number on the temporary sticker affixed to the new card from the primary phone number on your account. Be prepared to answer a few security questions.
ONLINE ACCESS TO YOUR CREDIT CARD INFORMATION
Online access to your credit card information will be unavailable from Thursday, April 7 until Friday, April 15th.
Beginning Friday, April 7th

you will not be able to receive Member Alerts, make payments or obtain basic information including balance and transactions.



NEW IMPROVED REWARDS PROGRAM
Your NEW Visa Platinum credit card will earn reward points for merchandise, and travel on the new platform, CURewards.

Don't worry about your points! You will not lose them. All unused ScoreCard points will be transferred to our new CURewards program.
PLEASE NOTE - YOU WILL NOT LOSE YOUR SCORECARD REWARDS POINTS!
Transactions beginning April 9 will be scored for points to be redeemed under the NEW Program and added to the total that's transferred.

Point information will not be available to you or FFCU until after the statement cycle date is produced on April 21, 2022.

After your first statement is produced, to view and redeem points: Log into Online Banking through fremontfcu.com Click the Credit Card tab Click the CURewards icon

Points will be calculated once per month when your credit card statement is produced.

Transferred points will expire after three years from the date the points were earned.

Our new enhanced Rewards Program will allow you to redeem points for merchandise, travel and now for cash, as well @ https://www.fremontfcu.com/Visa_Platinum_Card_Conversion_321.html If you have any additional questions, please contact Fremont Federal Credit Union at 419-334-4434.


See How They Compare Side-by-Side
*Visa Legacy Grandfathered product from our old card provider. This is our Visa Platinum Card that was grandfathered to our new Visa Platinum card program in which you still have the same rate as you did with our old card, but you have limited rewards.
This card is not offered to new cardholders.
Visa Platinum Rewards Card - This card is all about the benefits. Rack up points and enjoy competitive interest rates without an annual fee. Then, redeem your points for valuable rewards, including gift cards, merchandise, or travel.
Visa Platinum Card - This is our low rate Visa Platinum Card. Whether you're paying for everyday expenses or making larger lifestyle investments, you shouldn't have to fear credit card debt. The FFCU Visa Platinum Card keeps you in control of your finances.

Why Apply for an FFCU Visa Platinum Credit Card
New/Improved Rewards Program for the Visa Platinum Rewards Card

Contactless Payments

More Digital Wallet Options

Fresh New Card Designs

Available Debt Protection

24/7 Cardholder Service

Enhanced Safety & Security

Online Acess

Additional Features
Automated Fraud alerts: Receive emails and/or text messages for specific transaction types and dollar amounts.

Coming Soon! Visa mobile application: Make payments, check balances, review your activity and report your card lost or stolen, all from the convenience of your smartphone.

Coming in May! Apple PayTM, Samsung PayTM, Google Pay, FitBit Pay, and Garmin Pay: Take advantage of the latest forms of payment technology.
Debt protection: Available upon request.
Did you know that you can earn Bonus Points for every qualifying net dollar you spend? You can then turn your purchases into amazing Merchandise, Travel, or Experience rewards! We have top-name brand name items, fantastic vacation getaways, valuable services, to once in a lifetime experiences. CURewards has it all! We are continually updating our reward options so you'll have the latest and greatest rewards to choose from. So, go ahead, log in, have fun searching for rewards, create your wish list, and most importantly, be sure to visit often.
| | | |
| --- | --- | --- |
| Rewards | *Grandfathered Legacy Cards | Visa Platinum Rewards |
| One Point Earned Per Dollar Spent | | |
| Use Point To Redeem Merchandise | | |
| Use Point To Redeem Airlines* | | |
| Use Points To Redeem Gift Cards | | |
| Reward Point Promotions** | | |
| Merchant Funded Rewards*** | | |
| Points Do Not Expire | | |
| Use Points For Cash | | |

* Travel redeemed on Visa Legacy Grandfathered Card would cost the member about 35,000 points, whereas the Visa Platinum Reward program would cost the member for the same flight 25,000 points.
** From time to time, we may offer promotions to enhance the rewards you can earn on your card. For example, we may have a promotion over December that allows you to earn 10,000 points if you spend $2,000 on your card.
*** This is an online mall within the rewards portal that some merchants may offer more points per dollar for shopping with them and using the Fremont Federal Credit Union Visa Platinum card. For example, Nike may have a promotion that allows you to earn 2 points per dollar spent on our card within their store if you use the portal. Normally that transaction would only be 1 point per dollar spent.

Pay down higher-interest credit card balances.
You can quickly transfer balances from your other credit cards to take advantage of the FFCU Visa® Platinum Card benefits – especially the lower interest rate. Transfer your balances at any time, and we'll never charge you a balance transfer fee. Let us help you get it started by stopping by one of our branches and speaking with a Member Service Rep, Today!
Credit Card Rates
Take advantage of some of the most competitive rates available when applying for an FFCU VISA Platinum credit card. With your New Platinum card, you can build your credit as you enjoy greater purchasing power. You can also easily manage your account right online day or night. Best of all, our cards are mobile wallet ready for your added convenience. Choosing the right credit card to fit your lifestyle is easier than ever when you're a member of Fremont Federal Credit Union.
Our low APR* credit cards offer generous credit limits and low APRs compared to other credit unions and banks. Compare below and see why FFCU Visa Platinum credit card interest rates are some of the most competitive available anywhere.

Rates
| PROGRAM | APR AS LOW AS | CALCULATED | |
| --- | --- | --- | --- |
| | | | |
| FFCU Platinum Rewards Visa | 10.20% - 17.20% | Variable | |
| FFCU Platinum Visa | 8.20% - 17.20% | Variable | |
APR will vary with the market based on the Prime Rate. *Annual Percentage Rate
Apply online to get approved for a VISA Platinum or Visa Platinum Rewards Credit Card today!


Visa Credit Card FAQs
IMPORTANT PHONE NUMBERS:
To activate your Visa Platinum Card, call 1-800-631-3197.
To change your Fremont Federal Credit Union Visa PIN #, call 1-888-886-0083.
To report your Fremont Federal Credit Union Visa Platinum Card Lost/Stolen, call 1-866-606-2519 - Out of the Country call collect 727-299-2449.

To place a dispute or report any fraudulent transactions on your Fremont Federal Credit Union Visa Platinum Card, call 1-866-606-2519.

VISA Disclaimer
+ Please see Terms and Conditions for rate, fee, and other cost information. All terms, including the APRs and fees, are subject to change at any time, for any reason, in accordance with the Credit Card Agreement and applicable law. APR* = Annual Percentage Rate In accordance with the Credit Card Act of 2009, borrowers applying for a credit card under the age of 21 must either show proof of "ability to pay" or have a qualified cosigner over 21 years of age.* All Credit Cards are subject to approval. Rates, terms, and conditions are subject to change and may vary based on creditworthiness and qualifications. Variable-rate based on creditworthiness.
Go to main navigation